From Ideation to Deployment,We Offer Multiple
Fintech Software


Development Services
Custom Fintech Software
Hire fintech software developers with expertise in developing custom fintech software solutions for both web and mobile platforms to enhance user experience and stay ahead of the curve.
Digital Payment Solutions
Create digital payment solutions that bring you financial services into the digital world. From payment gateway development to digital mobile wallet apps and online banking applications, we provide expert software developers with expertise in multiple technologies.
AI-enabled Fintech Apps
We understand the potential of AI and Big Data in fintech app development. Our AI and Big Data engineers can help you in smart decision making to improve customer engagement. Hire fintech software development experts.
Regtech Solutions
Developing financial software that complies with regulations has become a necessity. InvoZone helps you build automated Regtech solutions, ranging from fraud detection and prevention to online identity management, regulatory reporting, and risk management.
Intelligent CRM Solution
Hire fintech software developers with expertise in developing cloud-based CRM solutions integrated with the latest technologies, including microservices and artificial intelligence for better financial management.
Accounting Information Systems
Integrate AIS software with ERP and smart business intelligence applications. Our team has in-depth knowledge of Accounting software including, Quick books, SAGE, and SAP. Hire a dedicated team for building fintech app solutions.
Why
Hire Fintech Application Developers

from InvoZone?
Commitment to agile best practices
Profound knowledge of the Fintech industry
Vast experience in AI, Big Data, Blockchain
Secure solution development for financial services
Diverse technology stack
Flexible engagement models
Transparent pricing
Dedicated project management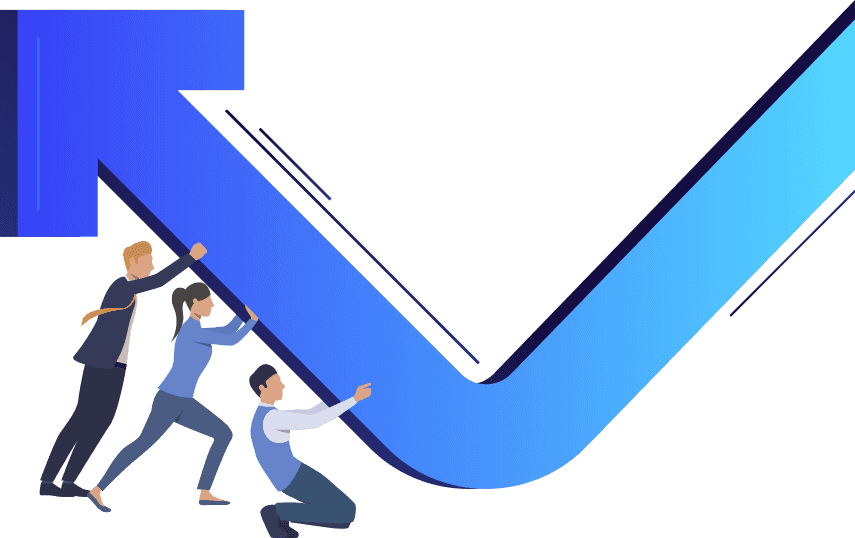 Entrust Your Technology

Development
Needs to InvoZone
How to Choose Your Fintech Software Development Outsourcing Partner?
With the growing popularity of Fintech, the number of Fintech app solutions is also increasing. Companies and Startups focus on time to market and turn to Fintech software development outsourcing to focus on their business strategy and marketing. But often, this outsourcing ends up in chaos and delayed product deployment. Why? Because companies don't focus on choosing the right software outsourcing partner for Fintech solution development.
In this article, we'll discuss how to choose the perfect Fintech development outsourcing company. We'll cover the steps you should know before outsourcing Fintech app development, the true cost of developing Fintech solutions, and the skills that a Fintech outsourcing partner should possess for developing an MVP product.
Let's start with the basics of Fintech software development.
What is Fintech Software?
As described by Investopedia:
Financial technology (Fintech) is used to describe new tech that seeks to improve and automate the delivery and use of financial services. ​​​At its core, Fintech is used to help companies, business owners and consumers better manage their financial operations, processes, and lives by utilizing specialized software and algorithms that are used on computers and, increasingly, smartphones. Fintech, the word, is a combination of "financial technology".
In simpler words, Fintech is any innovation that describes how people transact business, from the innovation of digital money to double-entry bookkeeping.
Common Types of Fintech Solutions:
Cryptocurrency and digital cash
Blockchain technology
Smart contracts
Digital banking
Insurtech
Regtech
Robo-advisors
Digital Payment Apps
Lending Apps
Now that you are familiar with which software falls under the category of Fintech, let's find out the steps to follow for outsourcing Fintech Software Development efficiently.
Fintech Outsourcing: Core Components of Fintech Software Development
Understanding the software development life cycle (SDLC) of Fintech solutions is crucial for both the developers and businesses. It describes the precise software development stages involved in turning a Fintech app idea into reality. The SDLC also gives a rough time estimation for the development of the MVP Fintech app. It involves the following steps in Fintech Software development:
Gathering and Analyzing Requirements
Since businesses seek Fintech software products to address their business needs, it is important to communicate requirements with developers effectively and efficiently. In this stage, stakeholders and project managers need to meet frequently to determine the business needs. The goal is to find out how and where the software product will be used and what inputs and outputs it requires. Once all the requirements are successfully gathered, project managers analyze them for validity. 
Designing the Fintech Software
Software Developers you hire uses the requirement specifications they analyzed in the previous phase to design the Fintech software. At this stage of product development, engineers identify the hardware and system requirements that the software product needs. This stage helps define the general system architecture. The Fintech developers and testers usually test the testing strategy at this stage.
This is the most critical phase of Fintech software development. Software developers divide the coding work into multiple modules or units to simplify and fast-track the development. This is the most time taking phase of software development. Developers require multiple tools and technologies to write and format the code properly.

Once the developers complete the coding work, software testers run tests on written code intending to find out errors and bugs if any. This phase helps in finding out whether the developed Fintech product meets the business requirements gathered at the initial stage.

Deploying Your Fintech  App
After successfully passing through the testing stage, your custom Fintech software solution is ready for deployment. This means you can deploy it to the targeted audience. However, before publicly deploying, it needs to go through beta testing to check if it has any bugs. After fixing the bugs found in the beta testing, the product is finally ready to be deployed.
With a firm knowledge of Fintech Software development life cycle, you can now hire the developers efficiently.
What is the True Cost of Hiring a Fintech Software Developer or a Company?
The cost of hiring a Fintech software developer depends on multiple factors – features you need in your application, region where the software development team is located, tools and technologies needed for the development. Typically, Fintech software development costs from $20,000 to $2,000,00+. To get the full estimation of your app's development costs, get in touch with our team.
What Skills should a Fintech Outsourcing Company Possess to Qualify as an Eligible Partner?
There are many technical skills software outsourcing companies should have to qualify as a perfect Fintech outsourcing partner. The most obvious ones people think of are coding skills, but they are not the most important skills. Financial domain knowledge is the foremost skill you should check when outsourcing Fintech app development.
The skills required are technical from a banking and payments perspective. This means that rather than understanding the code, developers need to understand how banking and payments work. How ledgers are held, how financial statements are kept, how real-time payments are made, what flow of fund is, etc.
However, to strictly remain in the domain, here are some skills you would need to check and they don't always relate to coding.
Programming Language (really, any language will do, however, python is the most used programming language in Fintech).
Solid understanding of databases, especially distributed databases, Master/Slaves, and fault-tolerance.
Protocols like ISO8583, FIX, OFX, ISO20022, SWIFT Messaging, ACH Formats, etc.
AML, it would be extremely helpful if you've undertaken a basic course in Anti-Money Laundering (AML) & Combating Financing of Terrorism (CFT).
Have a solid understanding of the Know-Your-Customer (KYC).
Be very helpful to understand the underlying regulations of banking.
Big Data
Middle-Ware Programming skills
API development skills
Why Outsource Fintech Software Development Services to InvoZone
InvoZone has a lot of technical expertise in developing Fintech software. We have developed many Fintech solutions for clients in the Banking domain. Check out our portfolio or simply fill in the form below to discuss your requirements.