Educational Software Solutions
Relevant to Your Business.
Learning Management System
Seamlessly integrate educational and training modules with custom LMS app development. InvoZone's educational software development services help you build feature-rich and interactive custom learning management systems (LMS).
eLearning Application Development
We help you build scalable eLearning web and mobile platforms to customize the learning experience for students and employees. From Mobile eLearning app development to custom educational applications we help your company in eLearning web and app development.
School Management System
Ease the administrative burden by digitalizing the admission process, enrollment and registration process, attendance, and other manual tasks. InvoZone helps develop custom school management software solutions for your educational institute's unique needs.
Educational Platform Development
Become a trusted provider of up to date knowledge and new skills by empowering your business with educational platform & online courses like Coursera and Udemy. Hire expert software developers to build interactive and unique educational platform.
Software for Corporate Training
Enhance employee productivity through custom employee training software applications. We provide you with a skilled , dedicated development team for building online training and skill enhancement educational software.
Virtual Reality Educational Solution
Provide interactive learning experience to the students with playful virtual reality solutions. Invozone's expert software developers help your organization to develop customized eLearning app solution.
Why
Outsource eLearning software development

to InvoZone?
Usability driven development and focus on UI/UX design
Diverse technology stack
Expertise around eLearning software development
Data security in compliance with applicable regulations
Flexible engagement models
Customer-oriented development approach
Streamlined communications and comprehensive reporting
Commitment to agile best practices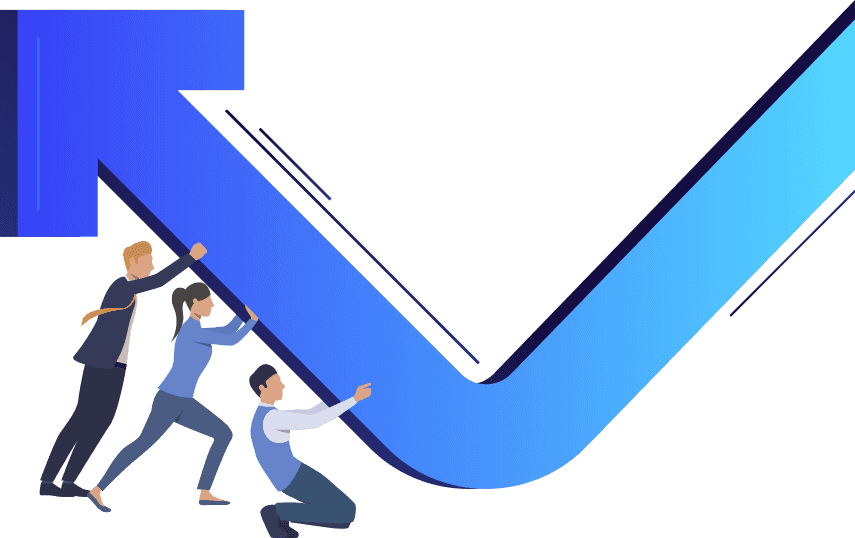 Entrust Your Technology

Development
Needs to InvoZone
How to Outsource Educational Software Development Needs?
Education software started gaining popularity back in the mid '90s. Today, almost every other educational institution is making use of its benefits to enhance every stage of the teaching and learning process. According to stats, global eLearning is expected to reach $325 Billion By 2025.
The education industry has been rapidly adjusting itself to modern technologies and trends. Let's face it, the traditional teaching methods and techniques are gradually becoming obsolete as more and more institutions adapt themselves to better and improved tools and technologies.
Educational technology companies all over the world choose to outsource their educational software development needs to make the most out of the opportunity. But why exactly do companies choose to hire lms developers when they can simply build the software themselves? Also, how do you know if the company you are going to outsource software development from is reliable or not? Well, that's exactly what we are going to be talking about today.
Why do companies choose to outsource education software development services? 
Custom software development is a very layered process, and there's two ways you can go about it; either you can outsource a team to build an education software for you, or you can opt for in-house development.
Though in-house development has been around since a long while, lately more companies are preferring to outsource eLearning software development. Let's look at some of the reasons for this:
Ensures on-time delivery of courses  

Majority of educational apps have a short shelf life because the educational trends are constantly evolving. Outsourcing is the right solution when the need is to develop new courses quickly to keep up with the fast-paced industry.

As long as the vendors you choose are experienced in the development process and possess the right skills, you can expect the job to get done in no time. Why? Because educational software development companies are much more equipped to scale up production as compared to inhouse teams. Outsourcing teams are usually capable of producing high-quality modules quickly with the help of rapid authoring tools.

Other than this, outsourcing teams are also able to counter emergency situations and allocate new resources to projects instantly.

Helps cut down the costs 

The true cost of developing an education software depends on several factors including the product features, the experience level of the developer and more. It also depends on which company you choose to outsource the services from. However, the average cost of developing a basic educational app lies between $5000 to$17000. The cost increases as the functionalities and procedures enhance, which vary based on the requirements.

Cost is one of the main reasons companies choose to outsource education software development services. As research performed by Deloitte indicated that almost 59% of companies outsource so they can reduce or control their costs. An in-house development team undoubtedly costs much more than an outsourcing vendor.

However, if you are outsourcing your development needs from a third-party contractor then you won't need to worry about overhead costs. Most of the outsourcing companies are fully established, offering high-quality services at affordable prices. Overall, as compared to in-house software development, outsourcing from reliable vendors is much more cost-effective.

Allows you to stay ahead of the learning solutions curve 

Modern online learning courses and applications make use of a fair number of interactivities and multimedia. Even if the in-house team of an organization is charged with content development skills, some skills are far too specialized.

For example, the in-house team might not have a lot of experience in using complex authoring tools to design advanced interactivities for your eLearning software. Outsourcing teams for educational software solutions means you will be partnering with a vendor that specializes in all services related to education software development. Not only do these companies make use of the best practices but also have access to the latest technologies.

In short, outsourcing eLearning software development will allow you to connect with individuals that are experienced and skilled in designing effective learning management systems. These professionals make use of the latest instructional design strategies to ensure that your eLearning software is up to the modern standards.
What are the top characteristics of an ideal education software?
Educational software development aims to enhance teaching and learning practices, making them more accessible and goal-oriented. However, not every software fulfills the purpose it is created for. There are certain things that need to be kept in mind to ensure good quality of the software. Let's look at some of the basic characteristics of an education software:
Easy to use UI (user interface): Easy to use interface makes the software easy to access and navigate for both; teachers and students. An ideal interface is applicable to all grades with icons, menus, and search bar so the user can easily switch between different activities and tasks.
Feedback features: Feedback allows for improvement in both; teaching techniques and learning methods. Students can leave reviews on their learning experience which can help teachers to get insight on which teaching methods are effective and which are not. If students engage with feedback, it can help enhance learning and improve assessment performance.
Interactive learning: The content provided in an education software should be interactive and understandable as every student is not a quick learner. This feature allows for open-ended exploration of topics which helps develop critical thinking skills. Studies also show that interactive learning helps students with information retention.
Graphics and layout: The graphics and layout are two of the most important features of education software. Education apps that include eye-catching graphics, themes, and designs makes the whole learning and teaching process much more fun. Useful education graphics can include graphs, charts, diagrams, and even equations. As for the layout of the software, it should be simple, clear, and easy to navigate.
How to effectively choose an outsourcing partner for your Edtech business?  
Let's have a look at some of the important things to keep in mind while outsourcing an education software development company.
Look for Subject matter Expertise  
An effective and well-developed education software consists of properly chunked content, interactive interface, engaging multimedia features, feedback options and much more. Educational software development is a complex task that requires proper understanding of not only eLearning tools but also business goals and changing learner preferences.
The ideal software should be tailored according to the learning objectives of the target audience. Its development requires expertise from experts from vastly different fields, such as authoring tools, multimedia experts, quality assurance team, learning design experts, developers, and more.  Therefore, it is important that you look for an educational software development company that holds expertise in this field. You can evaluate the potential outsourcing partners based on these criteria:
Technical expertise
Access to the latest technology
Skill Sets and flexibility
Strong portfolio
Experience in solving complex challenges
Passion for your project
Look for effective communication collaboration  
Effective communication between the IT outsourcing provider and the company is important as it helps both parties work collaboratively. Smooth communication guarantees that deadlines are met promptly and the results delivered are up to the mark. Since the vendor's team is going to be doing the software development for you, it is important that you get to know the team members.
To get a better idea of their skill level you can conduct interviews and check their past projects. Also, it is super important to stay connected with the vendor during the development process of the project. Otherwise, it can be difficult to know whether or not the quality of the project is up to the mark.
Therefore, it is important that you look for an outsourcing partner that offers seamless communication. This will help you save wasted time, cost and energy. Effective communication helps to:
Increases transparency and trust between both parties
Ensures that the results are delivered as expected
Helps save both time and money in the long run
Reduces the chances of revisions and project cancellations
Helps resolve problems and issues effectively
Look for 24/7 Technical Support  
To ensure quality results, you must evaluate the potential eLearning software development partner against a critical criteria. This includes their portfolio, security and compliance standards, as well as the technical support they provide.
Technical issues such as hardware failure, network connection issues, or system crashing can happen at any time. However, there's nothing to worry about if your outsourcing partner offers technical support. The availability of 24/7 technical support can be immensely useful as it can help:
Address issues promptly
Reduce customer downtime
Enhance user experience
Cut down unnecessary expenses, and many more
Takeaway
Naturally, every business that outsources educational software development services expects top-notch results from the provider. Needless to say, Invozone meets all of these requirements. Our customers, across a range of verticals, have benefited from improved customer satisfaction, sales, productivity, sales, business value and lower cost. Feel free to contact us if you want to find out more.