BLOG
Custom Website Design VS Templates: Which to Choose?
Learn about the advantages and disadvantages of both: developing websites from scratch or using web builders.
Top custom-built website designs to inspire you.
Custom Website Design V/S Templates: What should you choose?
Every once in a while we all come across websites that stand out from the ordinary, right? Such websites are the true meaning of innovation and creativity. Aesthetic visual appeal, smooth experience, interactivity, value addition, trendy design, and usability (refers to the ease of access and/or use of a product or website) are some of the most important components of a good website.
Website designs should swoon people and inspire them to stay. The reason why companies need to pay full attention to their web design besides everything else. Choosing the look and feel of your business website is not easy. It takes careful consideration of multiple factors such as typography, color palette, layout etc. Some companies prefer to design their website from scratch, some not so much and some can't even make up their minds. Thus, the battle between the custom website design vs templates never ends.
When developing a website, developers, designers, and all major stakeholders have multiple important decisions to make but most of all it's about whether to get ready-made templates and themes or build the website from the ground up. We spend hours deciding just that! But no matter what you choose, at the end of the day, it should serve its purpose. So if your business needs a website and you simply can not decide on your own, this blog will help you figure it out.
So let's delve a little deeper into that, shall we?
What Do You Mean By *Custom* Built Websites?
Apart from being unique, custom website development demands seasoned website developers to write code from scratch and designers to design the interface from scratch as well. Surely they can do their research and see other websites for reference but their web design has to be unique in terms of both UI and UX. 
Additionally, these websites are built without using any pre-existing infrastructure. Therefore, developers are at liberty to make the website look, feel and function exactly how you want. Just a heads up, even though custom websites can dazzle viewers but they come with a price and i.e. takes more development time, and more development cost. Why? Because they are tailor-made for your business alone with additional website functions and/or integrations.
Furthermore, it takes a proper team to custom build a website and involves creative ideation and thought process starting from understanding the target audience, your long-term goal, to the features and functionalities.
Moreover, SEO is very important for the Google ranking of your website. The reason why there are certain rules that companies need to follow when building a site and not all pre-made templates are capable of following them. That is why custom-built websites are considered superior. Just saying. Developers can optimize custom sites according to the SEO requirements which further helps with the ranking.
Having said that, let's have a look at some pros and cons of custom website design vs templates:
PROS
Custom websites offer a unique design based on the company's requirements and UI/UX branding.

They are proven to work across multiple browsers. 

Search engine friendly. 

Customers can easily identify your website based on its uniqueness which as a result can help your business grow.

If you have outsourced your development needs, then the company that has built it will be available for upgrades, maintenance, and support around the lock. 

Developers can make changes as they please. 

Custom-fit with unlimited design options.

Scalable and flexible meaning when your business grows, the website will grow with it. 

Your website will be built according to the latest trends in technologies using advanced programming languages.

Custom-built websites reflect your brand, your company culture, and your values.

Your website will follow all the essential security protocols and compliances without you having to worry about it.

You can have in-built marketing tools whenever you want. 
CONS
Custom website development is time-consuming.

A customized website is more expensive than a template.

It needs skilled developers, not every developer can build a customized website.
Some Custom Web Designs to Inspire You
Hello Monday
Hello Monday is a design company that brings experiences, ideas, and products to life. Their website offers an amazing digital experience and surely pleases the eye. Hello Monday's creativity is well reflected in their exciting concept and execution. Moreover, the blend of animation and visual effects offers a very engaging experience.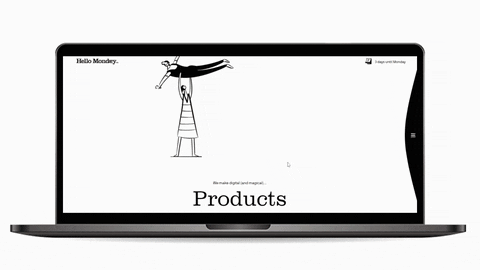 IDEO
IDEO is yet another global design company and has one of the best websites. Trust me! This custom-made website has the perfect layout. They won the Webby award for best business blog/website in 2019. The features of the website are pretty sleek, using variations of color in the overall design to create cohesion.
If you hover on the titles, they are underlined as yellow, such small features can surely make a huge difference in the world of design. All in all, the website is a perfect example of a unique and engaging user experience. 5 star for IDEO.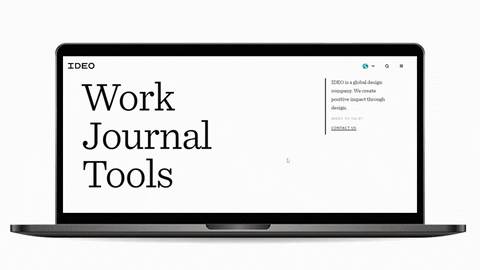 Invision App
Hands down. My all-time favorite. No question! The website is best in creativity, design, and innovation. The typography and cursor hover effects and smart use of tiny interactions on the website make the experience a whole lot better. An amazing combination of colors and visual effects brings uniqueness to the website. The idea of creativity can be seen in every corner of the website including their Inside design blog. 5-star work!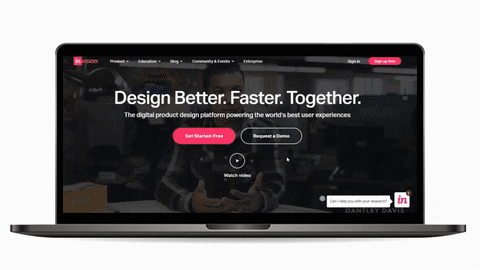 Apple
Apple is a global tech giant. Everyone knows about it! They have a simple, typical website that contains a bold use of fonts, animations, and easy user navigation. Their website is one of the best examples of 'Usability'. In addition, their products are placed on the main page with such finesse that it just lures you in.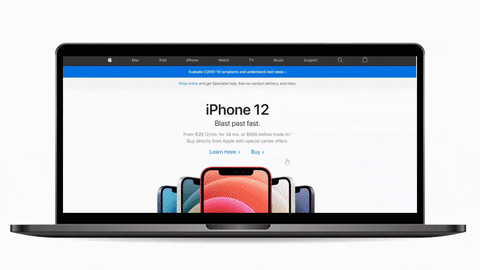 Frank Hals Museum 
According to Hubspot, 'it can be tough for a museum, whose brand is predicated on a variety of incredible artwork, to bring it all together on a cohesive website. That's what makes the website of the Frans Hals Museum so impressive.'
Frank Hals, a museum located in the Netherlands, won the site of the year award by Awwwards in 2018 and we can see why. The website is tailor-made and it is pretty evident from the use of digital design elements, color palette, typography, and animations. Moreover, the website gives a taste to viewers about what the actual experience would be like. It's a 10/10 for me.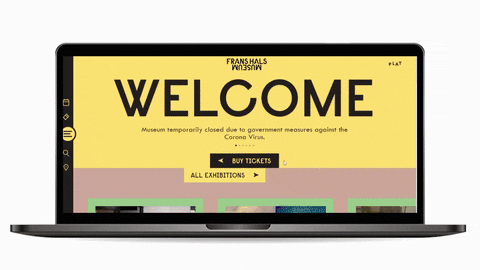 What is a Website Template?
Website templates are ready-made themes with built-in layouts, fonts, and color options. All you have to do is place your content and images. It is one of the most common ways to start a website for beginners. They can set up a WordPress website with premade themes from ThemeForest. Developers can choose from a number of options to get started. Even though they are the easiest and fastest ways to build a website, they are not responsive designs all the time. 
PROS
You can get a simple website up and running in no time.

Websites using templates are not only easier to build but are also budget-friendly and cost-effective. 

Many website builder platforms offer to host as well, meaning you don't need to individually buy it.

Templates can be easily customized. You can make changes according to your needs.

They are easy to maintain and a good choice for startup businesses. 
CONS
Even though you can customize the design, options are always limited.

Since templates are used by the majority of businesses, therefore, your design won't stand out. 

Not 100% responsive.

If you are looking for advanced functionalities, then templates are not the best bet.

They are not regularly updated and maintained. 

Minimal support is available.

Template websites can easily be hacked.
Top Website Builder Platforms: Compared
Website Design & Development: Important Things to Keep in Mind
Do your research and come up with ideas to make your website more interactive.

Be sure to focus on UI and UX design for the best user experience.

Your website should tell a story through visuals, content, etc. 

At least add some form of animation to enhance the important elements.

Call-to-action buttons are extremely important as they encourage users to explore further. 

User-friendly navigation is crucial for converting leads into full-time customers. 

Add social buttons, as it boosts the authenticity of your brand. 

Follow consistency across multiple web pages such as your font, colors, images, and brand messages should complement each other.

Testing the website for usability is recommended. 

24/7 support is important for customer retention. Integrate a chatbot for round-the-clock availability. 

Get an SSL certificate to ensure the security of your website. Not only builds trust but helps you get ranked on Google easily. 
Custom Website Design vs Templates: What Should You Choose?
Whether you choose to outsource a development team or design in-house, it all comes down to your decision. Based on the pros and cons of both custom and template websites we can conclude that custom website design over template any day. But still, there are certain factors that companies should consider such as:
Budget

Scalability

Deadline

Responsiveness 

Design Preferences 
No one factor is exclusive of the other for example you have the budget to develop a custom website but lack the timeline. At some point, you may have to compromise on one thing or the other. But quality should be at the top of your priority list for optimal user experience.
Custom website design VS templates: So what's it gonna be for you?